South by Southwest has come and gone, some sunburns were shared (yes, winter ended during the event – Kris is just that pale), and bellies are a bit rounder. Austin's annual celebration and cultivation of creative music, film, and interactive media is apparently plopped in the middle of one of the country's premier food destinations. It's a curious mix of sumptuously artery-stuffing Southern American comfort food and a Mexican menu tending more toward a generous mix of crispy veggies. The latter, possibly healthier option is a bit easier to find around gaming events in California, however, so barbecued, creamed, and fried eats were on the plate.
There's a Malay term that's appropriate here. Jelat, or over saturation of richness, flavor, some kind of quality of food.
Anyhoo. We had a nice pathway-spanning booth, the little bar in the center of a capital H joining thoroughfares. Here's a shot of the event organizers firing up the fancy bulbs exclusively for our photo purposes. Maybe.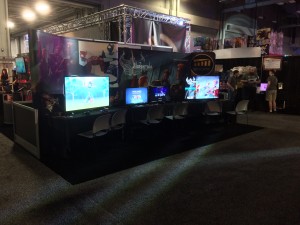 Unfortunately the lighting didn't stay so glamorous. In fact, during the brief moments the hall's lighting was brightened, a small clamor of cheers rolled through the exhibits followed by a murmur of booing as they dimmed again. It was kind of dark. That's my excuse for blurs and blaring boxes of light. I'm really quite exquisitely fantastic at telephone photography, honest.
One thing that's always lovely to see is a wide range of people enjoying games. There's frequently the nerds like us, sure. But SXSW brought a variety uncommon amongst the other conventions. The population of children, for example, was relatively enormous.
There's an interesting story to be told about technology's place in young people's lives these days. Suffice to say they picked up the controls and purposes of games far quicker than you might expect – like us adults are set in our concept of what the rules are, slower to adapt to new where the little ones absorb without a second thought. Watching them learn Perlinoid's puzzle mechanics was one of my favorite bits of the week.
The other was seeing people you might not expect enjoying games they probably hadn't anticipated being drawn to. We have a few niche games under our wings. Austin appears to have a great love of live art and, combined with the music festival portion of South by Southwest, there was representation of every kind of musician. Helping the most genuinely, humbly cool jazz type slide in front of and dig our little bartending title was a particular kind of treat.
Lots of families came by. Lots of sophisticated adults, lots of young friends. Some played cooperatively, literally sharing a controller, one half to each player. Most just shared comments and suggestions.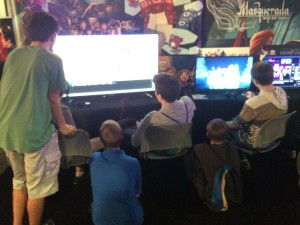 Tearing down the exhibit is always the worst part. The fun is over, we're packing and closing instead of building, and little loose ends need to be tied up. I'm fairly certain a small god of logistics was laughing at me as I resorted to a vending machine for small change bus fare, every other option closed for the night.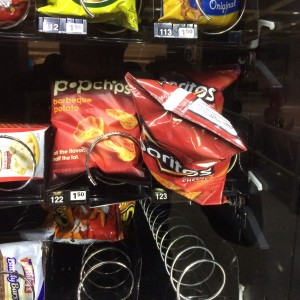 Oh, bother. All's well that ends well, I suppose. Onward to the next convention!